The news is not good for the Government employees of Puerto Rico.The Gov. Luis G. Fortuño has declared that due to the ongoing major budget deficit, it may have to go for cut jobs. The recession is taking a toll on all sectors and even the government sector is feeling the heat. The latest additon to the list of organization which may go for layoffs is the
Puerto Rico
.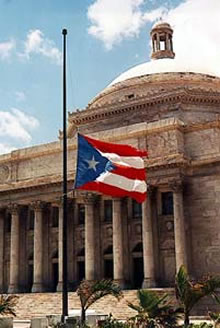 How many employees may be fired in the Puerto Rico layoffs?
There could be around 30000 layoffs by the Puerto Rico Government.
What is the total no. of employees of Puerto Rico?
Total No. of employees of Puerto Rico is around 300,000 as of now. The layoffs, if they happen will hence constitute 10% of the total employee strength.
When will the Puerto Rico layoffs happen?
THough there are no confirm dates about when the layoffs will be made, the layoffs if they happen, are learnt to be done gradually.
How much savings can be made by the company from the layoffs?
Around 2 billion dollars is the expected to be saved by Puerto Rico Government in public expenditures.
Any severence package offered to the affected employees?
Yes. Puerto Rico officials have reported that all the affected employees will receive retirement incentives and other voluntary measures will be taken before the layoffs.
What is the primary reasons for Puerto Rico layoffs?
Major reason is for cutting costs in the face of a slumping economy and higher credit losses. The huge budget deficti of 3.2 billion dollars is what is leading to such actions from the government.
Any other news about Puerto Rico layoffs
As per LAHT, There will be additional taxes on wine, beer and cigarettes. However, Gasoline and mobile phones are exempted from additional taxes as of now. The governor also said he would cut his own salary 10 percent. Puerto Rico's consolidated budget is $26.6 billion, of which two-thirds comes from federal financing. Government agencies have a $9.5 billion budget for this fiscal year and are facing a $3.2 billion deficit that would raise the cumulative deficit to $21 billion.
Let's hope that alternative jobs are available to the affected employees of
Puerto Rico Layoffs Job Cut